Welcome to Forest Trails Animal Hospital
Your local veterinarians in Tulsa.
Forest Trails Animal Hospital is a full-service veterinary hospital in Tulsa, Oklahoma. We provide medical care including diagnostic lab work, ultrasound, and x-rays for, not only dogs and cats, but also many exotic species such as birds, reptiles, pocket pets, rabbits, & ferrets.
Our Doctors
Forest Trails Animal Hospital is a currently a five doctor practice with over 115 years of
experience
Dr. Paul Welch graduated from the Oklahoma State University College of Veterinary Medicine in 1981. After working for 2 years as a staff veterinarian at another veterinary hospital in Tulsa, Dr. Welch established Forest Trails Animal Hospital in 1983.
Dr. Welch has been and continues to be active in many veterinary organizations. He has served as President of the Tulsa County Veterinary Medical Association as well as President of the Association of Avian Veterinarians. Dr. Welch has been the recipient of the Small Animal Practitioner of the year by the OVMA as well as the President's Award for Outstanding Service to the Profession by the AAV. He was recently inducted as a Distinguished Alumni of the OSU College of Veterinary Medicine in 2019. Dr Welch has also been on KOTV's "Vet on Call" answering questions during the noon show for over 35 years.
Dr. Welch has been married to Sarah for over 45 years and has two grown daughters, Megan and Jennifer as well as two grandsons. He is very active in his church, Kirk Crossing, in Jenks as well as Christian Veterinary Mission where he has served on many short-term mission teams. His hobbies and interests are Christian apologetics, Christian missions, traveling, cooking, golf, and martial arts.
Dr. Welch is currently active in the following organizations:
American Veterinary Medical Association (AVMA)
Oklahoma Veterinary Medical Association (OVMA)
Tulsa County Veterinary Medical Association (TCVMA)
Association of Avian Veterinarians (AAV)
Association of Reptile and Amphibian Veterinarians (ARAV)
Association of Exotic Mammal Veterinarians (AEMV)
Dr. Jones completed a Bachelor of Science Degree in 1984 from Oklahoma State University and then graduated in 1988 from the College of Veterinary Medicine with her DVM. She practiced for a short time in Broken Arrow. Then in 1990, Dr. Jones joined Dr. Welch at Forest Trails Animal Hospital. In 2004, Dr. Jones moved to Guatemala for 3 years. She returned in 2007 and found it necessary to care for her ailing parents. She was finally able to return to practice in April 2011. Dr. Jones currently has no pets after losing her 16 year old dog "Lacy". Her focus, after returning to practice and growing older and wiser, is toward educating her clients and client and patient care. She currently finds her extra time is spent doing DIY projects on her house.
Dr. Rhodes was raised in Minco, Oklahoma. He began attending Oklahoma State University in 1983. Dr. Rhodes earned a Bachelor of Science degree in Zoology from OSU in 1987, and he earned his Doctor of Veterinary Medicine degree from OSU in 1991. After graduation, Dr. Rhodes joined the staff of a small animal veterinary hospital in the Dallas area, and worked there for almost 15 years. In 2006 Dr. Rhodes moved back to Oklahoma and joined the team at Forest Trails Animal Hospital.
Dr. Rhodes enjoys Internal Medicine and Surgery of dogs and cats, and over the years has belonged to several Veterinary Associatioins that inspire excellence in the area of Veterinary Medicine.
Dr. Rhodes has 3 cats – PaiMei, Savannah, and Sally Cinnamon. They all started off as rescues, but Dr. Rhodes says that they have all forgotten their humble beginnings and now they think they are royalty.
In his spare time Dr. Rhodes enjoys camping, collecting antiques, and landscaping the property around his house to support native wildlife.
Dr. Jason Carver in a native Oklahoman from Stillwater and graduated from Oklahoma State University College of Veterinary Medicine in 2014. He has practiced in Oklahoma City and Broken Arrow before joining the team at Forest Trails Animal Hospital in 2022.
Dr. Carver is interested in all aspects of internal medicine and surgery of cats and dogs. He is an active member of the AVMA and OVMA organizations.
Dr. Carver is married to Breann, and they have two children Quinn and Crew. They also share their home with Andie, a one-of-a-kind beautiful Setter/Pointer mix. He enjoys spending his free time with family and friends playing golf, attending OSU athletic events, and rooting for the Chicago Bears!
Jennifer
Office Manager
Jennifer joined Forest Trails Animal Hospital as a vet assistant and reception in 2000.  After leaving the practice to focus on raising her son Tyler, she returned in 2018. She has since taken on the role of the Practice Manager for the hospital. She married her husband Michael in 2013 and together raised their two sons, Levi, and Tyler. They share their home with three dogs, Cash (beagle), Noble (lab), and the newest addition Rocco (pomeranian). When not at work she enjoys time with her husband and family, landscaping, and of course, playing with the dogs!
Anna
Registered Veterinarian Technician
Anna joined our staff in 2019. She is a Registered Veterinarian Technician from TCC here in Tulsa. She's married and enjoys working with all animals but is most interested in exotics pets.
Tamara
Veterinary Technician
Tamara joined Forest Trails in September of 2010. Currently, she works full-time as a Medical Coder and part-time here at the hospital. She has three grown children and four fur babies (three dachshunds and a chihuahua mix). Her hobbies include painting, reading and ax throwing!
Allyson
Veterinary Assistant
Allyson has been with Forest Trails since 2013. Her passion has always been to work with animals since she was a little girl. She is married to Lonny and has a talkative golden retriever named Cash. They love to go camping and explore the outdoors
Misty
Veterinary Assistant
Misty is a veterinary assistant and has worked in the veterinary field since 2004. She joined the Forest Trails team in 2011. She is a full-time high school history teacher and now works for us part-time.  She is married with two children, Phoenix and Iris. She has a cat, a bearded dragon, and 2 dogs.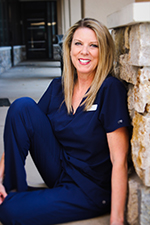 Amy
Reception
Amy started working with Dr. Welch and Dr. Jones in 1993. She worked at Forest Trails until 2001 when she left to take care of her son.
After returning to school to earn her teaching certificate, she taught middle school English for a brief time.
Amy returned to Forest Trails in the fall of 2020
Addison
Kennel and Vet Assistant
Addie joined our staff in August of 2021. When she's not at work, she spends her time with her dog Indy and studying to finish her nursing degree.
Nikki
Vet Assistant / Reception
Nikki grew up showing hunter/jumper horses and bringing home pets without permission. These pets included a sugar glider, the 4th grade class hamster and every frog she could catch. After attending Oklahoma State University, she spent many years working in orthopedic surgery and rodeo sports medicine. She is a licensed wildlife rehabber who especially loves birds of prey and opossums. In 2021 she decided to pivot to animal patients full time. Nikki resides in Tulsa with a very patient and animal-loving husband, one dog, two cats, three boys, seven quail and nine reptiles. She has fostered Great Pyrenees for 15 years and is a kitten medical foster for Animal Aid of Tulsa. Licensed as a nursery grower, she enjoys landscape design focused on pollinator-friendly native plants. She gets very little sleep and lives on Starbucks, but regrets nothing.
Ashley
Vet Assistant
Ashley joined our team in July of 2022. She has gravitated towards animals her entire life, especially exotics! Her favorite animals being the giraffe and okapi. She is the proud parent of a very opinionated and judgmental bearded dragon named Elliott. Ashley is our resident artist at Forest Trails. She enjoys a realism style with animal subjects. In her free time, you can find her exploring the woods, advocating for conversation and wildlife, enjoying nature and spending time at home watching Disney movies. Other favorite activities include listening to her British fiancée's dreamy accent and assisting our wildlife rehabber with fluffy, spicy and adorable baby animals!
Emily
Registered Veterinary Technician
Emily has been a valued member of our team since June of 2009. She enjoys rescuing kittens, staying active and hiking. She is the proud mother of one human child, the best dog ever (Milo) and two somewhat sketchy but adorable cats. Emily moonlights in animal emergency medicine and is currently working on a nursing degree. When not at work or school, you can find Emily at the gym lifting all the heavy things or at the Starbucks or Taco Bell drive thru.
Kali
Vet Assistant
Kali joined our staff in November of 2022. She has always had a passion for animals since she was little, and it has been her dream to work with them since. Exotics catch her interest the most; one of her goals in life is to travel the world seeing as many as possible in their natural habitats. In her free time, she enjoys watching movies, singing ALL the Disney songs, and cuddling with her cat Alester.